Join today and take advantage of new member benefits
TETL Fall Summit

October 6, 2023, Prosper ISD
Space is limited, so be sure and register early to secure your spot. REGISTER NOW!
2023 CETL Cohort
Sign-up now!
Dr. Kari Murphy and Dr. Karla Burkholder will be facilitating the 2023 Fall CETL Cohort. The kick-off meeting is, Monday, September 25, 3:30 p.m.
The group will determine the schedule at the kick-off meeting. There is no cost to participate, but you will need to register and purchase the following book: "Certified Edtech Leadership: The Key to Growing as a K12 CTO Through Standards-Based Best Practices," by Mike Daugherty. Available at Amazon for $27.99. Register now!
NEW! TETL "Lunch & Learn" Webinar Series
Wednesday, October 11, 12:00-1:00 pm 
"Bringing AI to the Classroom: Enhancing Teaching & Learning with EdTech Partners" sponsored by Amazon Web Services
"Cybersecurity Insurance: Is It Needed?"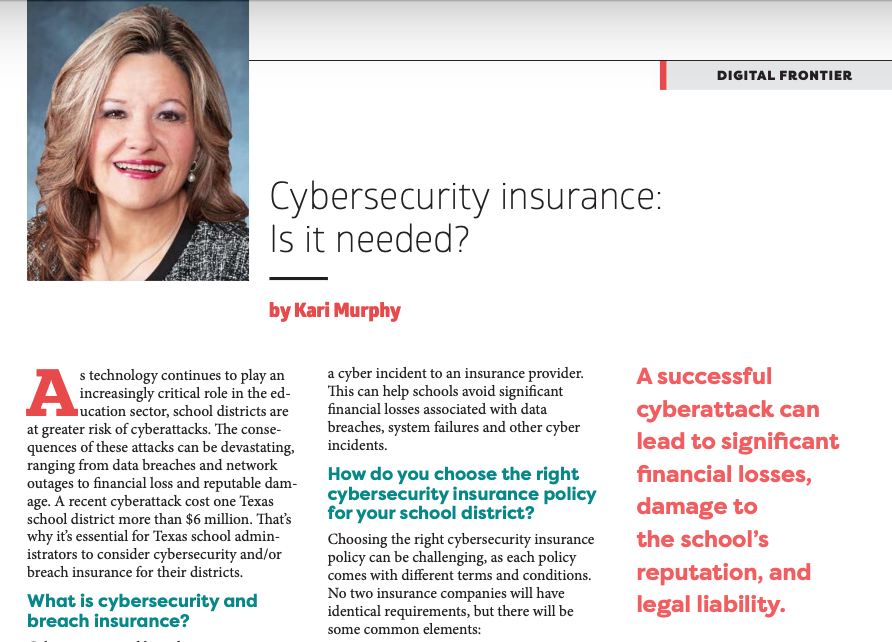 Read the full article by TETL member Dr. Kari Murphy in the July/August 2023 issue of Texas School Business. https://issuu.com/tasanet/docs/tsb-july23?fr=xKAE9_zU1NQ