From the Executive Director
Dear TETL Members,
As you know, I have decided to retire from my position as executive director of the Texas Education Technology Leaders at the end of this school year. It has been my honor and pleasure to serve this organization for almost 19 years, first as a founding officer, volunteer, and then as executive director. My last day will be June 30, 2022, immediately following Summer Clinic.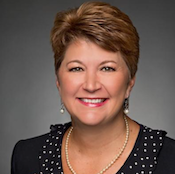 I am pleased to announce that the Board has approved our deputy director, Dianne Borreson, to take my place. Dianne has been doing an excellent job this year learning the day-to-day operations of the organization and will be ready to take over as I move out.
Dianne has 37 years of experience in K-12 education, recently retiring from Hays CISD as their CTO. Dianne has been a loyal member of Texas CTO Council/TETL for many years and served as board secretary from 2009-2011. Dianne has chaired the silent auction for several years and served on various TETL committees. She will bring great energy and passion to the job! 
I look forward to completing this year and having a smooth transition as I turn over the reins to Dianne. I hope you all will attend Clinic this summer on June 22-23, at the Kalahari Resort in Round Rock, TX, so that I have a chance to say to good-bye to all of you and you get the chance to welcome Dianne to her new leadership role.
Please remember that the power we have as an association is in the connections we have to each other as members and the care and support we provide to one another. I am always a phone call or email away. Please stay in touch!
Sincerely,
Alice Owen, Ph.D., CAE, CETL
New TETL White Paper: Small Districts, Big District Needs
Problem: With fewer resources available than larger school districts, small school districts struggle to provide the same education technology assets and opportunities to students.
Overview: Through the use of already existing planning resources, careful budget planning, and strategic staffing decisions, small districts can ensure the safety of their school communities and provide students with the same access to education technology as students in large districts. Data privacy is increasingly important for K-12 districts in a digital age where student and staff information is stored across many systems. Small school districts in Texas can adhere to existing standards for security implementation and staff training by taking advantage of existing resources from established partners. Further, through a comprehensive understanding of the mechanisms for school funding, small districts can leverage existing local, state, and federal funding streams and maximize efficiency in order to provide students with the technological opportunities and district systems necessary for K-12 education in the 21st century.
TETL is your partner to help you be successful in all of your technology endeavors. If you are not yet a member, we encourage you to join. From white papers like this one to professional learning and networking opportunities, a wealth of resources are available to you. We truly are all in this together! If you would like to receive a copy of the full white paper, please send an email to Dianne Borreson at deputydirector@tetl.org.
Statewide Cybersecurity Awareness Training
House Bill 1118 (87R) amends some of the cybersecurity training requirements for state and local governments. Here is a link to the bill text.  Organizations are encouraged to confer with their legal counsel concerning specific requirements, or if there are additional questions. DIR has published a new certification form for the FY2022 training cycle for entities to verify compliance.
What is a Certified Cybersecurity Training Program? 
Texas Government Code 2054.519 State Certified Cybersecurity Training Programs requires  requires DIR, in consultation with the Texas Cybersecurity Council, to certify at least five cybersecurity training programs for state and local government employees and Section 2054.5191 requires state and local government employees and officials to complete a certified training program. The statute also requires state government contractors to complete a certified training program.
Annual Timeline
| | | |
| --- | --- | --- |
| Date | Entity | Description |
| Annually | All government entities | Train employees on certified training programs |
| March 15 - April 30 | DIR | DIR with consultation of the Texas Cybersecurity Council reviews requirements of the certified training programs |
| May 15 | DIR | Updated list of certification requirements published |
| June 1 | Training providers and government entities | Submission of training programs begins |
| July 31 | Training providers | Submission of training program ends |
| August 31 | DIR | New list of certified training providers published |
| August 31 | All government entities | Report completion of training submitted to DIR via the web form |
Join today and take advantage of new member benefits