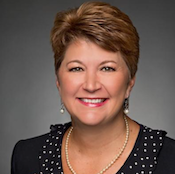 From the Executive Director
Dear TETL Members,
It's that time of the year again—busy! busy! busy! As we reach the end of the academic semester and the start of the holiday season, I hope you can take some quality time over the upcoming break to rest, disconnect, enjoy your family, and prepare for the challenges of the New Year.
****Due to inclement weather the 2023 TETL Winter Summit, originally scheduled for February 1, has been rescheduled for Thursday, March 23, 2023. Registration is open at: https://events.american-tradeshow.com/tetlwintersummit23. We look forward to seeing you then!****  
Looking forward to 2023, I am happy to report that TETL is growing and thriving! We currently have six ESCs that have joined or renewed their membership. We also extend a warm welcome to our newest district members: Celina ISD, Crandall ISD, Graford ISD, Longview ISD, Melissa ISD, and Texans Can Academy. In addition, we are fortunate to have numerous new organizations collaborating with us to provide information around data privacy, cybersecurity, physical security, and E-rate support for Texas school districts. 
I am excited to announce a new member of our TETL team, actually not new to our organization, but new to serving in this capacity. Karen Fuller will be contracting to serve as our Trusted Advisor for Strategic Initiatives. In this role, Karen will help us design and organize initiatives and related professional development opportunities for our membership. Karen currently serves as Director of Network Infrastructure and Communications at Cypress-Fairbanks ISD. She has been involved with TETL since its inception and brings immense expertise and valuable perspective to our association. We are very glad to have her contract with us in this new endeavor!
Data privacy and data governance are the key topics at the Winter Summit, as we "Take it to the Next Level." Please reach out to your neighboring districts and invite them to attend. If they are not yet a TETL member, we offer a complimentary registration in our "Try Before you Buy" initiative. Please have them email exdir@tetl.org to receive the registration code.
If you joined our last Monthly Member Call, you noticed that we have changed the format. Moving forward, our calls will center around member engagement. Each call will feature a panel-style discussion, touching on topics that have been presented by our members, as well as a short leadership development activity led by our Leadership Committee. On the November call, we had nearly 40 participants and it was very energizing to hear the thoughtful interactions between our members. If you have topics that you would like to discuss, please email me.
Nominations are now open for the 2023 TETL Awards and Alice Owen Student Scholarship! Each year, TETL recognizes individuals and school districts that demonstrate outstanding vision in the use of information technologies to improve student learning. Nominations close on March 1, 2023, and awards will be presented at the 2023 TETL Summer Clinic. Learn more and submit a nomination now.
Lastly, as part of our strategic planning process with the board, we have asked each committee to identify their current initiatives. The board will then summarize those initiatives and align them with our organizational goals and objectives. Please reach out to me anytime with ideas and opportunities for ways in which we can better serve you!
Wishing for you a holiday season filled with family, fellowship, health, and kindness.
All the best,
Dianne Borreson, CETL
New TETL White Paper: Small Districts, Big District Needs
Problem: With fewer resources available than larger school districts, small school districts struggle to provide the same education technology assets and opportunities to students.
Overview: Through the use of already existing planning resources, careful budget planning, and strategic staffing decisions, small districts can ensure the safety of their school communities and provide students with the same access to education technology as students in large districts. Data privacy is increasingly important for K-12 districts in a digital age where student and staff information is stored across many systems. Small school districts in Texas can adhere to existing standards for security implementation and staff training by taking advantage of existing resources from established partners. Further, through a comprehensive understanding of the mechanisms for school funding, small districts can leverage existing local, state, and federal funding streams and maximize efficiency in order to provide students with the technological opportunities and district systems necessary for K-12 education in the 21st century.
TETL is your partner to help you be successful in all of your technology endeavors. If you are not yet a member, we encourage you to join. From white papers like this one to professional learning and networking opportunities, a wealth of resources are available to you. We truly are all in this together! If you would like to receive a copy of the full white paper, please send an email to Dianne Borreson at exdir@tetl.org.
Join a TETL Committee!
Leadership & Development—Chaired by Robin Stout and Barbara Brown
The Leadership & Development Committee is charged with planning and executing leadership and development opportunities. They will be working closely with Karen Fuller on upcoming professional development opportunities. The Leadership & Development committee meets the first Thursday of every month at 2:00. Zoom link to join Leadership & Development Committee Meeting.
Membership—Chaired by Jacque Fewin and Eva Mendoza
The Membership Committee is focused on growing our membership. The following regional service centers are members: 4, 7, 10, 11, 12, and 20!  We still need Regional Champions for 1, 3, 6, 7, 8 12, 14, 15, 18, and 19. Email itdirector@lcisd.net if you are interested in being a regional champion. The Membership Committee Meeting calls are the fourth Thursday of every month. Zoom link to join Membership Committee meeting.
Advocacy—Chaired by Chris Cummings
The Advocacy Committee is charged with developing and advancing advocacy initiatives. This committee works closely with CoSN to ensure our voices are heard. The Advocacy Committee meets the third Tuesday of every month at 1:00.
Note: Due to the holidays, the December meeting has been moved to December 6, at 1:00. Zoom link to join the Advocacy Committee.
Digital Shift—Chaired by Karla Burkholder and Chris Langford
The Digital Shift Committee is responsible for publishing content to support TETL initiatives. They have published several whitepapers which can be found on the TETL website. This committee meets the third Wednesday of every month at 12:30. Zoom link to join the Digital Shift Committee.
Meeting & Events—Chaired by Leslie Garakani
The Meeting & Events Committee is charged with planning our three main events. This committee works closely with the executive director to select venues, sponsors, presenters, and content for each event. This committee meets the second Tuesday of every month at 1:30. Zoom link to join the Meeting & Events Committee.
TrustEd—Chaired by Greg Grimes
The purpose is of the TrustEd Committee is to provide materials and support for data privacy initiatives, cybersecurity planning, and building a trusted learning environment. This committee doesn't meet on a regular schedule. This committee also works closely with Data Privacy Alliance.  To request access to the national database, go to https://sdpc.a4l.org/add_district_account2.php?state=TX
Join today and take advantage of new member benefits
TETL extends a warm welcome to our new district members: Celina ISD, Crandall ISD, Graford ISD, Longview ISD, Melissa ISD, and Texans Can Academy. We're glad you're here!
TETL Awards
Nominations are now open for the 2023 TETL Awards! Each year, TETL recognizes individuals and school districts that demonstrate outstanding vision in the use of information technologies to improve student learning. Learn more.
Over the last 20 years, we have experienced significant changes in the technology that we use in our daily lives. Just think about it . . . from iPhones, Fitbits, Amazon, and Alexa, to Twitter, Netflix, and TikTok—the way we work out, find entertainment, get our news, buy our groceries, and talk with friends and family all look a lot different today.
The same is true for our schools and how we use technology to facilitate learning. From personal devices, chargers, hotspots, passwords, Wi-Fi, personalized learning apps, and cloud computing, the tools students use in classrooms look very different than they did 20 years ago.
Read the full article in Texas School Business by TETL Executive Director Dianne Borreson here.