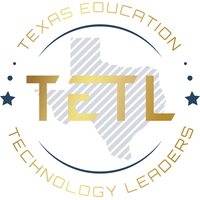 Dear TETL Members,
Please see below an urgent call from CoSN concerning FCC funding for cybersecurity, and consider signing on with your support.
In addition, TETL and Cypress-Fairbanks ISD are participating in a meeting with the FCC in Washington, D. C., in early October, and will present supporting information on the need for funding for K-12 cybersecurity initiatives. We will keep you updated on the outcomes and on ways in which you can be involved.
Thank you for your advocacy on behalf of our students and schools!
Sincerely,
Dianne Borreson-CETL, TETL Executive Director
Sign the Coalition Letter Urging Flexibility on E-Rate Funds here:
https://docs.google.com/forms/d/e/1FAIpQLSer9IB4pEgKfV1CiuDloqSSjchimsXWecLiJAnpvmlyCPmMhA/viewform

Dear CoSN Members,
Last week CoSN and other national partners called on the Federal Communications Commission (FCC) to take action to fund cybersecurity given the epidemic of cyber attacks on K-12 school systems.
Our member Los Angeles Unified School District (Los Angeles Unified) continues to work toward full operational capacity following a massive September 2022 ransomware attack. CoSN and Los Angeles Unified Superintendent Alberto M. Carvalho invite you to join us in a collective effort to urge the Federal Communications Commission (FCC) to immediately authorize the ongoing, permanent use of existing E-Rate Program funds to bolster and maintain IT security infrastructure.
Los Angeles Unified kindly requests you join this coalition letter by submitting this form no later than 3 pm PT on Tuesday, September 20th. A final copy of the letter will be shared with you once submitted to the FCC. If you have any questions, please contact LAUSD's Director of Legislative Affairs and Governmental Relations Martha Alvarez at martha.alvarez1@lausd.net.
Please sign on.
Keith Krueger
CEO, CoSN
---