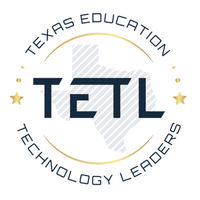 For Immediate Release: June 22, 2023
San Marcos, TX— Texas Education Technology Leaders (formerly Texas K-12 CTO Council) has announced that Dr. Kellie Wilks, Chief Technology Officer at Ector County ISD; Kevin Worthy, Superintendent of Royce City ISD; and Aledo ISD, led by Chief Technology Officer Brooks Moore, are the winners of their annual awards.
Dr. Kellie Wilks, Chief Technology Officer at Ector County ISD, is the recipient of the Grace Hopper Award. The Grace Hopper "Outstanding CTO of the Year" Award is given each year to a district CTO who best represents the model of leadership set forward by Grace Hopper, a pioneer of computer programming and leader as a U.S. Navy Rear Admiral.
As Chief Technology Officer, Wilks has demonstrated outstanding leadership in using information technologies to increase opportunities for student learning in ways that have made a positive impact on Ector County ISD. Wilks is actively involved in initiatives to bridge the digital divide in her community. She was part of the ConnEctor Taskforce, which brought together community leaders from education, higher education, and government officials to make broadband available to Ector County. She also worked with the Digital Inclusion Team at the Dallas Federal Reserve Bank of Dallas in their Community Initiative: Advancing Digital Inclusion.
Wilks has a deep understanding of how technology can be used to improve instruction and student outcomes, as well as the ability to effectively communicate this vision to others. She has led the district's technology division in its work to share strategies for successfully integrating digital learning tools across the district. Wilks was instrumental in securing partnerships and funding to bring internet access to Ector County. She worked collaboratively with stakeholders and was a part of the core team that brought SpaceX to very rural areas of Ector County.
These initiatives significantly affected classroom learning and helped change the mindset of what teaching and learning could look like in Ector County. As a result of these efforts and their impact on families in the community, Wilks was featured in numerous publications, including Texas Monthly.
Kevin Worthy, Superintendent of Royce City ISD, is the recipient of the Empowered Superintendent Award. Each year, TETL selects a superintendent who has promoted and supported innovative uses of technology in their district. The award considers categories of leadership, innovative projects, collaboration, and district awards and recognitions.
As superintendent at Royce City ISD, Worthy inherently understood the need for all students to have access to instructional technology and he led the charge for a 1:1 initiative. He also understood the resources it would take to accomplish this objective and fully supported the technology department in creating an unprecedented learning network.
From the school board, to the cabinet, to principal meetings, Worthy drove the successful incorporation of technology throughout the district, while always ensuring the technology department had every tool and resource needed to get the job done.
Worthy also created a variety of opportunities for students involved in the program to speak about the initiative around the country, including at the CoSN conference in Portland, Oregon. In addition, Worthy has served on multiple education technology committees, including the Google Advisory Committee.
As a result of these efforts, the "ChromeSquad" is now known worldwide. And, after more than one hundred site visits, this program has helped numerous other school districts create their own 1:1 initiative.
Aledo ISD, led by Chief Technology Officer Brooks Moore, is the recipient of the CTO Council's TEAM Award. Aledo ISD serves over 7,000 students in six campuses. Over the last few years, the district has successfully developed a variety of partnerships to create innovative educational programs that serve the changing needs of its students while ensuring all students have access to education technology regardless of their socioeconomic status.
Aledo ISD established a notable partnership with the city of Aledo to provide high-speed internet to all students and staff. This partnership has significantly impacted students, allowing them to access digital learning resources and participate in online learning without interruption.
The district also built partnerships with local companies, such as Lockheed Martin and Weatherford International, to provide students with real-world learning experiences and to prepare them for careers in high-demand fields such as engineering and technology.
These innovations have significantly improved student learning outcomes and increased engagement among students, parents, and teachers at Aledo ISD.
This year, TETL also awarded scholarships to four high school seniors who intend to continue their education in technology and/or education. This winners of the Alice Owen Student Scholarships are: Conner Ratzlaff Midlothian ISD; Ava Hounshell- Lubbock Cooper ISD; and Caleb Fasoranti- Midlothian ISD.
About Texas Education Technology Leaders
TETL (formerly Texas K-12 CTO Council) is a chapter of the Consortium for School Networking (CoSN) and is the premier organization for technology leaders in Texas K-12 school districts. Being a leader in the field of education technology depends on having the right support and guidance to stay ahead of quickly changing technology trends. Your network is key to helping the school districts you serve implement the best systems and solutions possible. We understand the challenges you face today . . . and we help you look ahead to what's on the horizon. We tailor our services to support you and to help you stay one step ahead of an ever-changing technology environment. We empower education technology leaders . . . for today and tomorrow.
---