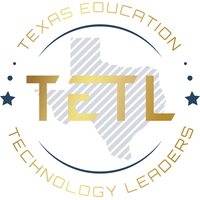 TETL needs your help to educate Texas legislators about schools' cybersecurity and other education technology needs. The legislature will make consequential budget decisions this year, including whether schools need dedicated cybersecurity funding and setting spending levels for the Instructional Materials and Technology Allotment.
With your involvement, we can help state leaders understand the daily cyber threats posed to school networks and confidential student and teacher data, so that they vote in favor of a proposed $55 million K-12 cybersecurity investment. Collectively we can also be an influential voice when the legislature considers other critical ed tech issues, including funding the IMTA, broadband, privacy, and more.
Please use this template and send a statement of support to your state representatives! If you follow this link, you will be directed to a website where you can enter your zip code to find your state representatives and email them directly. Feel free to send the template as is, or you modify as you see fit. Thank you!
****
Texas Education Technology Leaders (TETL) Is committed to helping school districts meet the digital learning needs of students, educators, and schools. TETL serves the school district technology professionals working to support innovative teaching and learning. We know that serving as an effective education technology leader depends on solid peer support, professional guidance, and collaboration. TETL's vision and membership help us meet these and other needs for technology leaders at all levels, including by providing the expertise and support that our members need to stay one step ahead of digital learning's ever-changing landscape.
One of TETL's roles is to help Texas K-12 school districts understand how to plan for and use technology to improve educational outcomes. We also educate policymakers about school districts' technology needs, including identifying schools high-capacity broadband, device, and cybersecurity needs. As the legislative session begins, we hope you will consider addressing the following high priority needs:
• Preventing K-12 Cyberattacks. TETL strongly supports the $55 million appropriation included in S.B.1 and H.B.1 for the Texas Education Agency to provide cybersecurity services for school districts. Cyberattacks threaten the private data of Texas students and school personnel and this investment is a significant first step to help districts address this serious challenge. Cyberattacks also often lead to lost instructional time and wasted public resources. Many school districts lack the resources and expert staff to mitigate these growing cyber risks. School districts of all sizes need the state's help to secure their networks, avoid learning disruptions, and protect the confidential data of students and staff.
• Strengthening School District Data Management & Governance. As data volumes increase, so do school districts' data management challenges. Realizing data's benefits while protecting it will require districts to design and use enhanced data management governance, policies, and best practices. School districts require state leadership and investment to build capacity to use data effectively, including equipping educators and other staff with privacy and cybersecurity knowledge and skills.
• Increasing the Instructional Materials and Technology Allotment. The Instructional Materials and Technology Allotment (IMTA) serves a dual purpose by funding the purchase of instructional materials and technology. Since IMTA's inception, however, only a tiny percentage of the allotment has been used to purchase technology. This approach has made it difficult for Districts to initiate and sustain broad-based technology implementations. The fund was decreased in the past legislative session, negatively impacting districts. We ask that the funding be restored to previous levels and adjusted for inflation.
• Ensuring Access to Connectivity and Technology for Learning and Online Assessment. Students are learning the skills of tomorrow using slow connection and unreliable networks. Some students have minimal or no access at home and cannot take advantage of distance learning, digital homework, and collaboration with students and their peers. Funding is needed to close these gaps, including ensuring that districts can deliver required high-quality online assessments.
Thanks again for committing new funding to enhance K-12 cybersecurity. This initial investment will provide significant help to school districts. TETL looks forward to continuing to work closely with you over the longer term to ensure every Texas school is protected from cyberattacks.
We appreciate your leadership as we work together to fund and implement viable solutions on behalf of the state's 5.3 million students.
---