The Texas Education Technology Leaders (TETL) meets face-to-face three times a year. Vendors are encouraged to be a part of the dialogue with our Texas CTOs and Ed Tech Leaders. There are several opportunities during the year to be involved with our organization.
We host two local, one-day meetings in the fall and winter. We always have more companies that want to sponsor than we have space to accommodate in our local meetings, so we suggest signing up early!  Unfortunately, we only have room for selected sponsors to attend our local meetings (Fall and Winter). If your company does not get selected at the Fall meetings, we try to give your company an opportunity at the Winter meeting. Because of the high demand, we may still not be able to accommodate everyone. We hope you understand.
The call for participation for the Fall Summit usually goes out in the summer. The call for participation for Winter Summit usually goes out in October. The call for participation for the Summer Conference usually goes out in March. The average attendance at these local meetings is about 120-150 participants. Average attendance at the Summer Conference is about 400-450. Sponsorships are selected on a first come, first served basis. Watch for emails from Mel Forehand, our events manager, to notify you when the call for participation opens!
We also welcome your participation in an important new initiative for TETL—a sponsor advisory committee designed to identify ways in which we can build out and strengthen our partnerships. Please keep an eye out for information on joining this new feedback forum coming soon! If you have any questions or would like to discuss opportunities for partnering with TETL, please feel free to get in touch with Executive Director Dianne Borreson at exdir@tetl.org. Thank you very much for your support!
2023 TETL Summer Conference
Texas Education Technology Leaders is taking the 2023 Summer Conference to new heights! New opportunities are being offered so your company can promote its brand throughout the conference. Take a look at the new exhibit space options and sponsorship opportunities and make your selection fast so you won't miss out.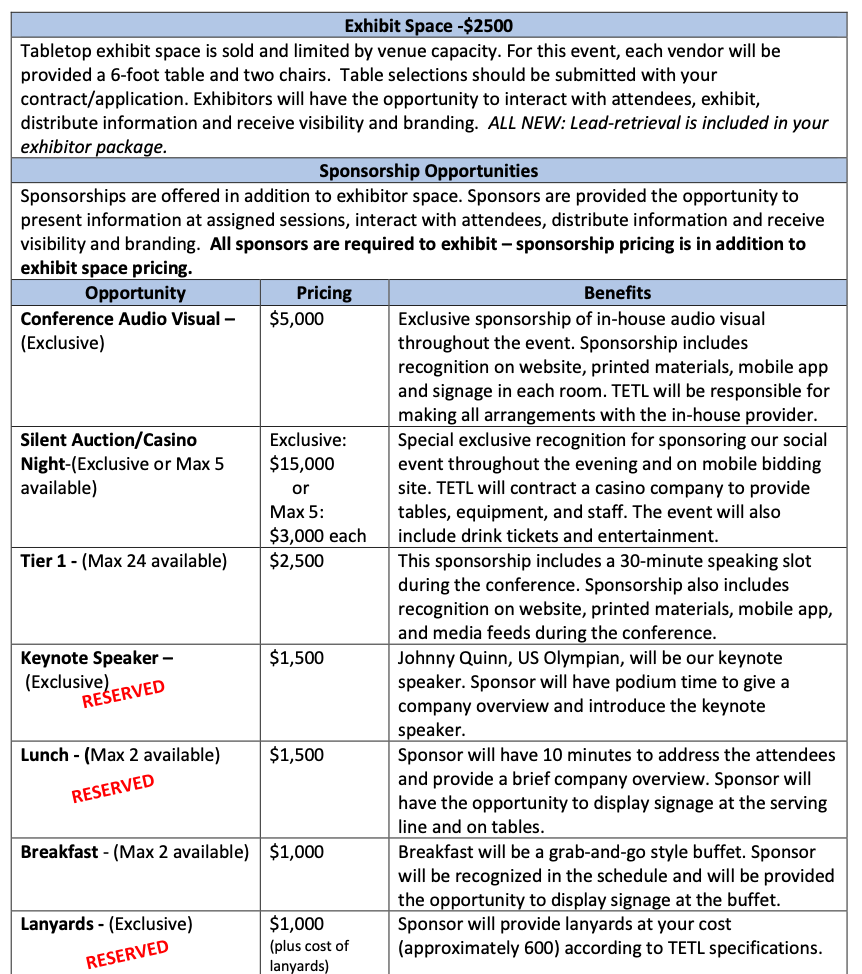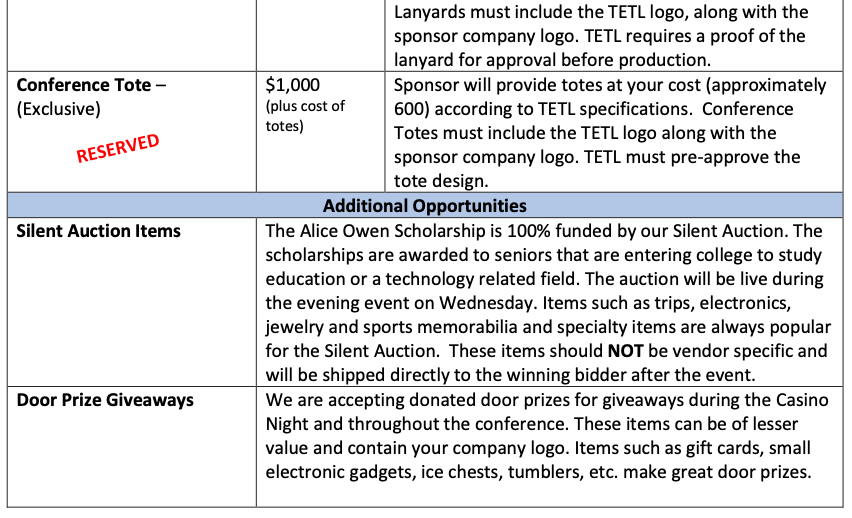 Upcoming Events
TETL Summer Conference—June 21-22, 2023, in San Marcos, TX
EXHIBIT HALL HOURS
Move-in:            Tuesday, June 20 - 2pm-7pm
Exhibits:            Wednesday, June 21 - 7am – 5pm
                          Thursday, June 22 - 7am – 3:30pm
Move-out:          Thursday, June 22 - 3:30pm – 5pm
All table-top displays must be set and ready to go by 7am on Wednesday, June 21, 2023.
TETL Fall Summit—October 6, 2023, at Prosper ISD
Become a TETL Sponsor
If you have questions about TETL sponsorships or would like to be a sponsor for an upcoming event, please email Mel Forehand at mforehand@logistex.net for more information!
Please note: In order to ensure the most value for our sponsors, we require all vendors to register to attend events if they are not an official sponsor for said event. In addition, if your organization works closely with a vendor partner, both organizations will be required to be official sponsors in order to attend the event. The number of available sponsorships at each level, for each event, will be determined by the capacity at the selected venue and, depending on the venue capacity, TETL may also limit the number of additional paid vendor registrations beyond the two complimentary that are provided. This will allow us to both manage physical space limitations and maintain a proportionate balance of attendees and vendor sponsors, while providing the greatest engagement with our membership and value to our sponsor partners.